This beautiful piece,
A Father's Love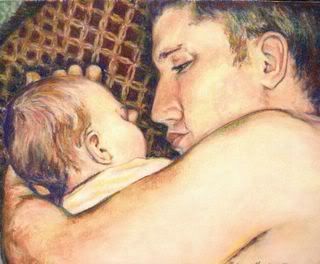 is one of many great pieces found at
Chalk Dust
Okra Soup writes on
black women's art
:
"Creating Their Own Image" is a comprehensive history of African-American Women artists. The book begins with an examination of Western images of Blackness from the ancient Greeks through the Renaissance which is filled with postive images and on to the Slave trade when the first negative images begin to appear.



The narrative proper begins during the Middle Passage with the emergence of slave art, including domestic-oriented work such as quilts, dolls and textiles, as well as gardens and burial sites. Farrington then leads us through the splendors of black women's art during the Reconstruction, the post- Reconstruction backlash, a new flowering during the Harlem Renaissance and the WPA, what she views as the setback of Abstract Expressionism, and black women artists' love-hate relationships to the Black Power and feminist movements. The second half of the book is devoted to contemporary art, covering abstraction, conceptualism, outsider art, postmodernism and post-Black art.
Mud_Ink
tells
us why we should pay attention to art history and theory:
theory----->a summation of all kinds of shifts in thinking about art that have been taken place since the enlightenment.
------->can take different form/position/methods/practice.
--------->some not naturally combine, some overlap confusingly, others simply irreconcilable.
------------> theory has, and always has had, it place.
---> we get engage in them whether we like it or not.this brings us back to the the beginning of this writing , unless you can articulate something that don't exist, we are already taking a stand in what we express.

postmodern theory in all shapes and forms warns us-----> nothing is absolute;that truth is always provisional and partial.'reading' of a work by any individual will eventually be revised by other readers.
---------->all positions in theorectical approaches are 'open and equal'. gives us a conceptual frameworks of 'histories for history, truths for truths.
----------->theory frames the mindset of present time.
Technorati Tag: art